Unable to find maternity wear that reflected her style, Jayn decided to create her own brand, with the help of her business degree.
Six months ago, mother of two – Jayn – saw a life-changing business opportunity. "I was designing and wearing my own pregnancy clothes, and then I had a few people come up to me and say, wow, that looks really great." explains Jayn. She decided to launch her own maternity-wear label with attitude, called Mutha Maternity, which has since gained amazing traction.
Splitting her time between Melbourne and Bali, Jayn is hard at work marketing her brand, and working with Balinese tailors to create her next range. At the same time, she was able to earn a degree – Swinburne's Bachelor of Business, which gave her the confidence to make strategic decisions for her brand.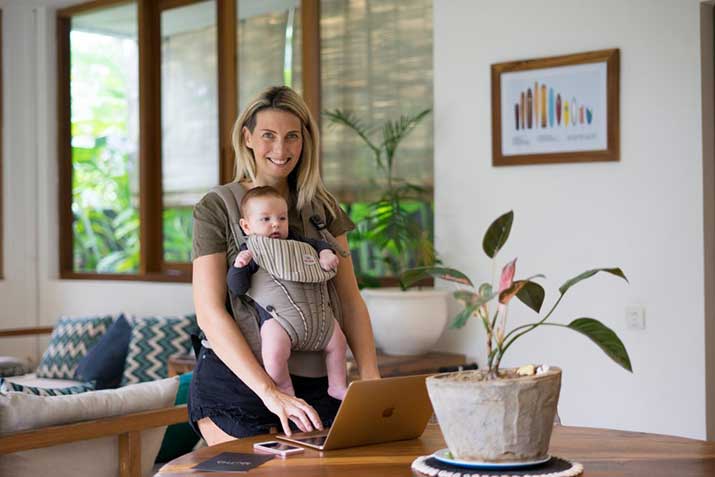 Whether she's working on her website, promoting her brand on social media, or talking partnerships with online influencers – Jayn can rely on her newfound knowledge to guide her. "Without theoretical experience on top of my practical experience, I probably wouldn't have had the confidence to do it."
Have a vision? Let university study be your first step.
If you've envisioned the destination, but don't know how to get there, gaining knowledge is the best place to start. Through OUA, you can study online, in your own time and space. Everything you need is provided in your university's online Learning Management System (LMS). You'll study the same coursework as an on-campus student, only with more flexibility to tailor your experience. To help you find the right study option, OUA has a team of experts, who'll also help you manage your studies after enrolment. So come join OUA's passionate community of students – online, but never alone.
Browse  thousands of courses from leading Australian universities.
Or complete the form on this page to chat to an advisor about study options.
Explore courses