Meet Rachit, the Operations Manager for Student Advisory at Open Universities Australia. He joins us this month to tell us what's so special about working in the role he does, and how he helps student advisors guide students towards their goals. He also has a history in footy... but more on that below.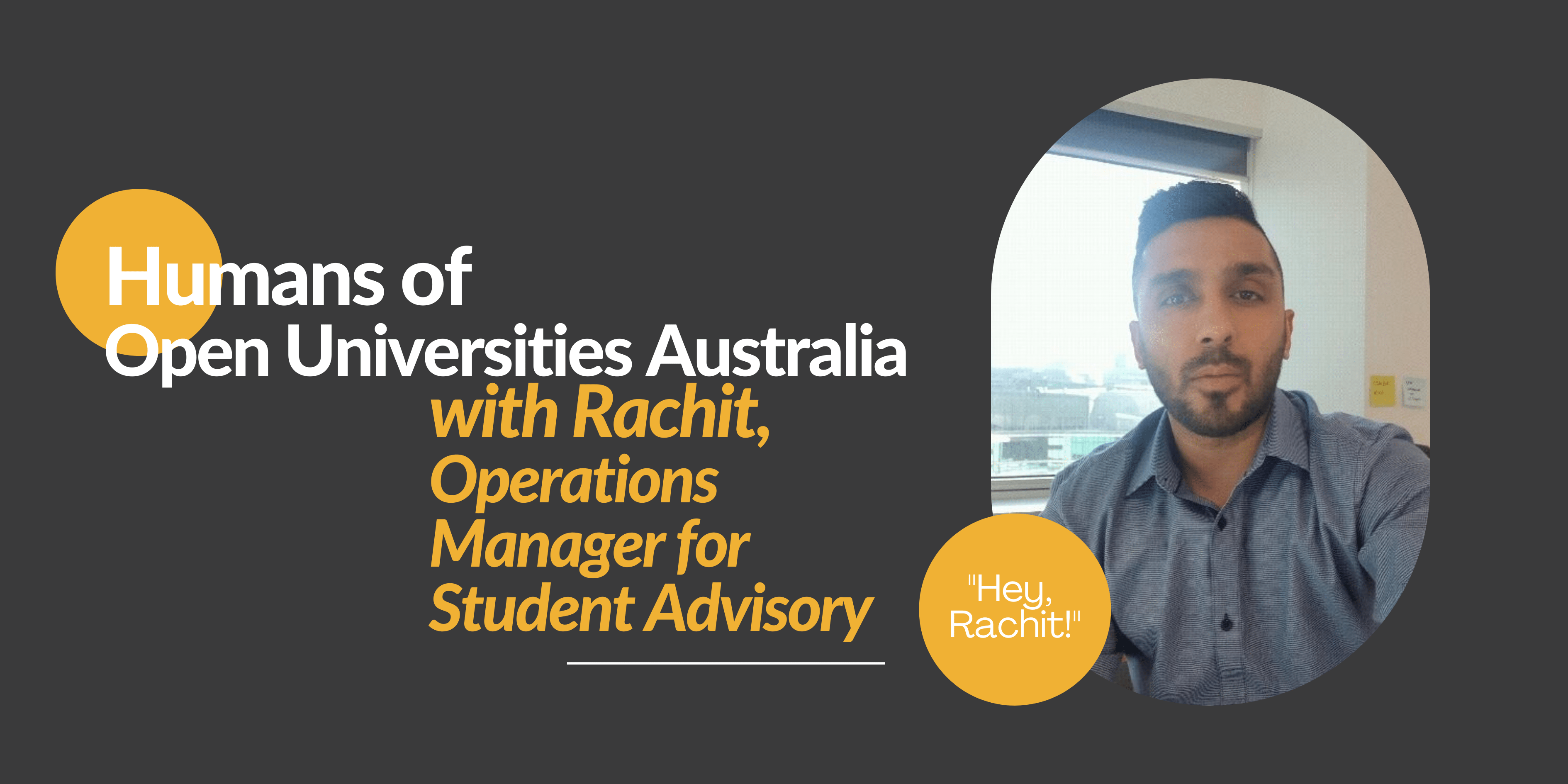 Tell us your name and your role at Open Universities Australia?
I'm Rachit Monga and I'm the Operations Manager for Student Advisory. My role at Open Universities Australia allows me to do a variety of things. I mainly focus on coaching team leaders to build capability and enhance the experience of student advisors, which helps them guide students towards their study goals!
I also have the opportunity to improve internal systems and processes, creating strategies for student advisory teams with a focus on improving the student experience.
What was your role when you started and how has it changed?
I started as a Team Leader in 2017 supporting a team of student advisors, I then moved to the Optimisation Team Lead role and finally into the role I'm in now.
It's been a fantastic journey of learning new skills, leading a great team, identifying blockers, and working with amazing people to find solutions in all the roles I have been in.
What led you to working at Open Universities Australia and why?
Working for Open Universities Australia seemed a perfect match during the interview process. The mission, the culture, the people, and the role ticked all the boxes. I had the opportunity to spend some time listening to calls between a student advisor and some students during one of the interviews and I was excited by the part I was going to play.
What do you do every day to transform lives through education?
I wear a lot of hats every day and everything I do is guided by our company values, with one of them being 'Act for the Customer'. Whether it be ensuring that our student advisors are happy and have the right capability to help students, or focusing on student feedback to improve how we do things, each and everything I do leads up to how we transform lives through education.
What is your favourite part of your role?
Being in a leadership role where every interaction I have and everything I do can create positive outcomes for the team at Open Universities Australia and our students is what I love the most.
What is your proudest moment or career highlight during your time at Open Universities Australia?
Around 3 years ago, we significantly changed our way of working in the student advisory. There were changes to how people and teams work together and how we build capability across voice and messaging channels. I was part of the group that planned and implemented these changes. They've since become a pillar in how we consistently excel in supporting our students and continuously improve the way we work.
What would you say to students thinking about taking the leap into online study?
I saw a post on LinkedIn some time ago from Adam Grant which resonated with me: 'If you wait until you feel ready to take on a new challenge, you might never pursue it at all. Few people wake up suddenly feeling prepared to lead or create. They become prepared by taking the leap anyway.'
This is true for a lot of students we speak to and if you're one of them, the resources we have on our website and our fantastic student advisors are here to guide you there. Reach out and we'll do our best to help you reach your study goal!
What would you say to someone thinking about working for Open Universities Australia?
Open Universities Australia as an organisation does everything in its power to help its employees with play, purpose, and potential in their role. Play comes from enjoying the role and doing what you love doing at work. We have a fantastic purpose to transform lives through education. And learning, development and growth within the organisation helps you realise your potential.
If play, purpose, and potential motivate you, Open Universities Australia is a great place to work. To top it all off, people and culture make it one of the best places to work!
What do you do when you're not working behind the scenes at Open Universities Australia? How does this make you great at what you do?
A lot of stuff, with one of them being creating Excel files for comparisons of things! For now, I'll share two things that I think make me a better Open Universities Australia employee:
I enjoy team sports and with any team sport, there is so much learning around team work, trusting each other and contributing to a team goal. I adapt a lot of those principles and learnings when working with an amazing team at Open Universities Australia.
Time with family and friends is really important for me and highlights that people in our lives are of highest importance. One of Open Universities Australia's values is 'Care for each other' and I believe in doing everything possible to support and care for the people I work with.
Finally, tell us a fun fact about you!
I played for the very first Indian AFL team that participated in AFL International Cup in 2008. We struggled against most teams but considering most of the team didn't know what AFL was until a few months before the tournament, it was a wonderful experience and a lot of fun!
Browse  thousands of courses from leading Australian universities.
Or complete the form on this page to chat to an advisor about study options.
Explore courses