Hear from Emily Tatti, our Senior Content Marketing Specialist. She reveals why Open Universities Australia is a workplace where you can be the "master of your own destiny". Emily also opens up about almost interviewing Jason Sudeikis!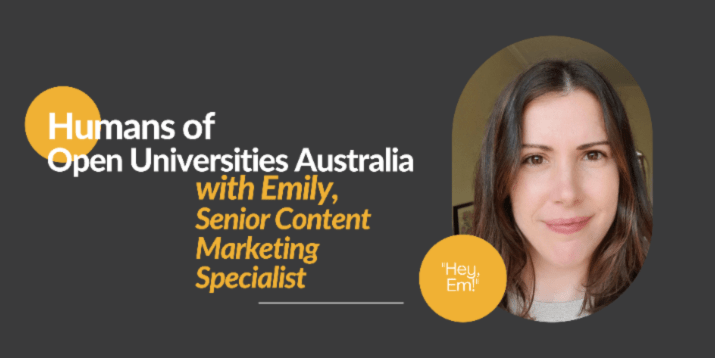 1.
Tell us your name and your role at Open Universities Australia?

My name is Emily Tatti and I'm a Senior Content Marketing Specialist at Open Universities Australia. It's my role to learn everything I can about our prospective students, so I can plan content that will inspire them. Day-to-day I do a lot of writing, editing and search engine optimisation (SEO), which is a way of writing content that means it will be found on Google.
2.
What was your role when you started and how has it changed?

I started as a Digital Copywriter in 2021. My role involved producing all sorts of marketing content, like blogs, social media posts, emails and radio ads, you name it. After I expressed an interest in the strategic and editorial side of my job, I moved into the role I have now. I spend most of my time project managing content we publish on our website and finding creative new ways to engage with our audience—which is the dream for a writer, really!
3.
What led you to working at Open Universities Australia and why?

I was keen to work in the not-for-profit space, and when I saw a creative role come up at Open Universities Australia, it seemed like a perfect fit. The business's focus on accessible education really resonated with me, because I come from a regional area where tertiary education options are limited, and I was the first person in my family to go to university. I loved the idea that my writing could help someone realise they can get into uni after all.
4.
What do you do every day to transform lives through education?

I am always putting myself in our students' shoes so I can answer their questions or alleviate their concerns about studying. I know how daunting the world of higher education can seem and I want them to feel confident about taking their next step.
5.
What is your favourite part of your role?

I love researching different study areas and careers, so I can share that information with our students. The only problem is it makes me want to enrol in a new course every week. Can you be a psychologist/game designer/conservationist all at once? No?
6.
What is your proudest moment or career highlight during your time at Open Universities Australia?

I work with people who are extremely passionate about the power of content, and it's been such a highlight collaborating with them. My proudest achievement would be what we've managed to accomplish with this blog. After changing our strategy and production processes, we've significantly boosted our readership. It's been exciting expanding what we write about, experimenting with new ideas, and finding different ways to incorporate student feedback.
7.
What would you say to students thinking about taking the leap into online study?

If you're not sure where to start, we can help you figure it out! I recommend exploring

our blog

for insights into different careers, or

taking our quiz

to get matched with courses that might suit you. Our student advisors are also a lovely bunch who genuinely care about setting you on the right path. You can

book a one-on-one call

with them to get personalised guidance.

And if you can't find the advice you're after on our website, I can do something about that! Send us a message on

Facebook

or

LinkedIn

with your content idea, and I'll make sure we cover it on the blog. I'll interview an ostrich farmer for career tips if that's what you want to learn about.
8.
What would you say to someone thinking about working for Open Universities Australia?

If you prefer to be the master of your own destiny when it comes to your career, Open Universities Australia could be the place for you. I've been given a rare freedom to make my role what I want it to be here. The people you work with are very open to new ideas and approaches, so you get the space to explore your interests.
9.
What do you do when you're not working behind the scenes at Open Universities Australia? How does this make you a better employee?

I love to hike (now with my six-month-old puppy in tow, which can be slow going!). I find being out in nature inspiring. It's where I come up with some of my favourite creative ideas. Like most content people, I'm also a big reader, which makes me more well-rounded and empathetic as a writer.
10.
Finally, tell us a fun fact about you!

I dabble in pop culture criticism (yes, that's a thing!). It's led to some cool opportunities, including a nerve-wracking 24 hours when I thought I'd be interviewing Jason Sudeikis over Zoom at 3am. It didn't happen, but given how bad my hair is at 3am, it's probably for the best.
Browse  thousands of courses from leading Australian universities.
Or complete the form on this page to chat to an advisor about study options.
Explore courses