Bronagh is our Lead Business Analyst at Open Universities Australia. She loves figuring out the "why" behind problems, even helping her toddler understand what's inside the moon!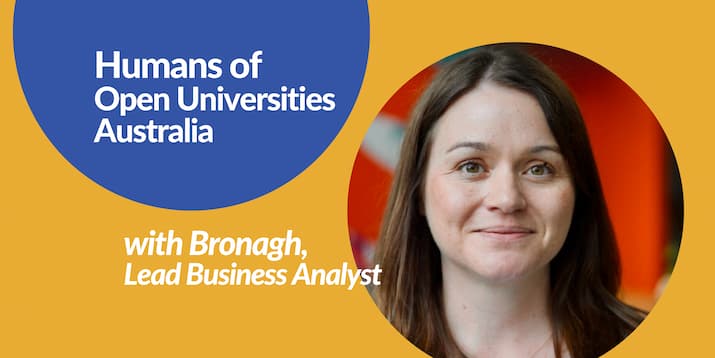 1.
Tell us your name and your role at Open Universities Australia?

I'm Bronagh Fagan and I'm the Lead Business Analyst here.
2.
What was your role when you started and how has it changed?

I started with Open Universities Australia in 2020 as a Senior Business Analyst. My role soon changed to Lead Business Analyst and Coach, which involved looking after a wider group of Business Analysts as well as helping teams with agile coaching as needed.

At the end of last year my role changed again, and now I'm the Lead Business Analyst with the Enrol and Start Team, while also looking after the Business Analyst Group.

We Business Analysts now sit under technology, whereas previously we sat with Product. Being closer to the Engineers and getting involved with their strategy pieces has been exciting so far!
3.
What led you to working at Open Universities Australia and why?

Before Open Universities Australia, I was a Business Analyst/Scrum Master with Jetstar. A scrum master is like an agile coach but for scrum teams. Agile coaches are project management professionals who help teams in businesses priortise work for greater flexibility and efficiency. Meanwhile, scrum teams are groups of employees working on a project towards the same goal.

COVID-19 impacted airlines first, and in March 2020 I had to leave. That triggered my job hunt for a new role. As I'd never worked in education before, I was excited to try something new and I felt Open Universities Australia was a place that I could make a difference to peoples' lives.
4.
What do you do every day to help students transform their lives through education? And how do you embrace education at home?

When it comes to work, I analyse and uncover challenges in our enrolment funnel that might not allow students to register in their desired subject or degree. By clearly communicating current problems, system behaviours and business rules I can help teams make informed decisions to deliver better outcomes for our students.

At home – as a mother to a toddler and teenager, I try to make learning fun. For my toddler – by answering his "why" questions, no matter how deep the "why" goes... I think he might be a future business analyst! It's led us to watching YouTube clips on "what's inside the moon" and "how tidal waves happen"! YouTube has taught me a thing or two.

For my teenager, it's about giving her the space and freedom to explore her interests and find her passions through creativity (by buying endless arts supplies!)
5.
What is your favourite part of your role?

I love solving problems. I'm curious and like to understand how and why something works in the way that it does. Seeing others come together to fix problem once they're fully understood brings me joy.
6.
What is your proudest moment or career highlight during your time at Open Universities Australia?

Starting here during lock-down and working with everyone remotely. I think it was over a year before I saw anyone in-person, but it still felt like meeting new friends.

We focused on building a connection while online and I was very grateful for it.
7.
What would you say to students thinking about taking the leap into online study?

Go for it! The flexibility is one of the biggest advantages of online study. Course work and assignments can be completed on your own schedule, which makes it easier to balance study with other life responsibilities.
8.
What do you do when you're not working behind the scenes at Open Universities Australia? How does this help you do the incredible work you do?

I love getting outside and regularly go walking around the local wetlands while listening to podcasts or music. I have a formula to my weekly podcasts: self-help, learn something new, laugh with a comedy, then a good long documentary-type podcast or true crime. I'm open to any recommendations!

It's a great way to unwind and relax. Autumn is my favourite season to get outside with fallen leaves and cooler temperatures.

All of this allows me to have less stress in my life by ensuring there's time in my day for me. I also like to remind others about getting outside into nature to break the constant stimulation of technology and screens to give our brains a break.
9.
Finally, tell us a fun fact about you!

I eloped and got married in Vegas on 7-7-7! No, not by Elvis! I've know my husband since high-school and we are celebrating our 25 years together this year. Time flies!
Browse  thousands of courses from leading Australian universities.
Or complete the form on this page to chat to an advisor about study options.
Explore courses