Cindy uses a range of questioning techniques to help curious callers discover which courses might be the right fit. We sat down with Cindy to hear more.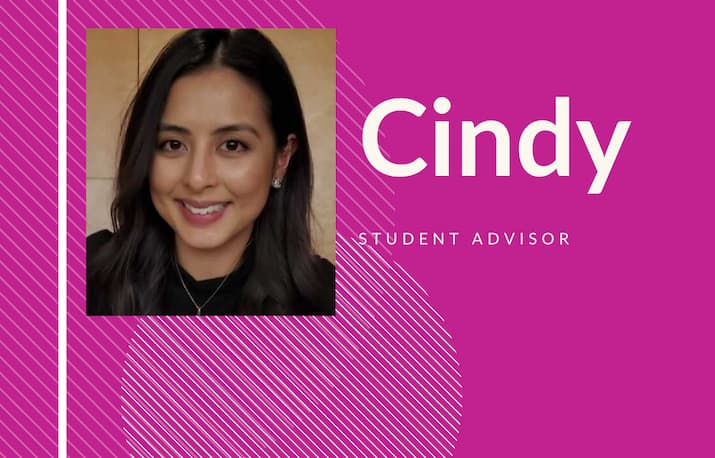 What do you love most about helping the people who contact you?
Hearing the different reactions from every student! I particularly love hearing that "ah-ha" moment they have when they realise there are less barriers to getting started than expected. I love hearing the excitement in their voice!
What's some advice you'd give to someone thinking about taking the leap into study?
Start small. You can take baby steps by starting a single subject and work your way towards finishing a degree. The first step always seems like the biggest hurdle, but once you get started it'll feel like a breeze!
What is the most exciting course you have recommended to a student and why?
The Undergraduate Certificate in Creative Arts and Health with the University of Tasmania. The student I was helping had a passion for music and wanted to pursue a career in a field that would allow him to help others. We discovered that this course would allow the student to use creative outlets such as music, theatre and dance to improve individual and community wellbeing. The student was extremely thrilled that there was a course that married passion and goal together.
How do you guide students in your day-to-day role?
I guide students by firstly digging deep into their motivation and finding their 'why'. This is important as it reveals the students underlying drive and passion. This allows me to work with the student to break down the necessary steps they need to achieve their goal.
Do you have a success story of a student you have guided?
This story actually relates to the first student I called on my first day as a student advisor! The student who called had taken a gap year after high school and wanted to study but he was unsure of where to start. After digging into his motivation, he revealed that he was interested in learning more about mental health, as his wanted to better educate his family and community. As he had never studied at university level before, we got him started with a subject to help with his academic skills. He is currently on his way to completing an Undergraduate Certificate in Psychology!
What's the biggest misconception about study that you regularly debunk for students?
That they are unable to study at university as they didn't complete high school, which isn't true. Open Universities Australia gives everyone the opportunity to study at university level, without requiring any prior studies through Open Access. Once students pass two to four single 'open enrolment' subjects, they're eligible to study in related undergraduate degrees.
What is your superpower in student advisory? How does it help you guide students?

There is an abundance of information out there which can be daunting for a lot of students, but my superpower is making the process of studying exciting, seamless and achievable for students!
How has Open Universities Australia helped you reach your own goals?
It's really encouraged me to push myself and step outside of my comfort zone. When I'm presented with an opportunity that appears foreign and challenging, I think about all the students I have encouraged to take the leap. It keeps me accountable for my actions and motivates me to step up.
Have you ever seen a student's confidence in themselves change from when they first call, to when they enrol?
I remember talking to a mother of three who had been a stay-at-home mum for more than six years. She hadn't studied since high school and had been working in retail most of her life. She didn't think she'd be able to continue raising her kids and study at the same time. After discussing the ability to study online on a part-time basis, the student realised it was achievable. She left the call feeling extremely excited and couldn't wait to get started!
Are you considering taking the leap into study? Why not call one of our friendly student advisors? You may just get Cindy on the other end of the line. Every call or Live Chat is friendly and no-pressure. They will help you explore your options so that you can feel confident about your future.
Browse  thousands of courses from leading Australian universities.
Or complete the form on this page to chat to an advisor about study options.
Explore courses