Orientation Week is a great way to make new friends and prepare for uni life. But how do you get involved as an online student?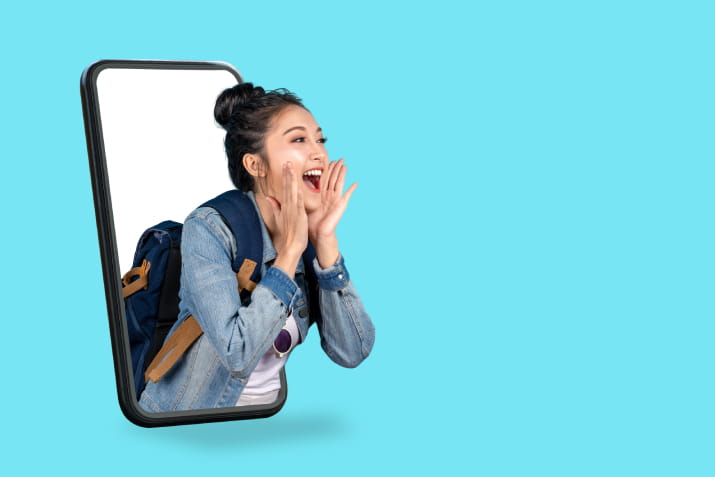 If you're about to start studying online, congratulations! This is such an exciting time in your life and we're here to help you make the most of it.
While you won't physically attend orientation (or what's often called O-Week) at your university, you can still access plenty of orientation resources and activities, which will help you get off to a roaring start in your chosen course. Here's everything you need to know about how O-Week works for online students.
What is O-Week?
All universities host an Orientation Week or O-Week in the week before official classes begin. Though it isn't compulsory to take part, O-Week is your chance to ask about uni life, attend welcome seminars, meet your classmates and join student clubs, so it can be worth getting involved.
Now that more and more students are studying online, universities are changing how they approach O-Week. They're making it possible to attend academic and social orientation activities remotely. Many also run separate orientation programs specifically for online students.
When does O-Week start?
While O-Week is always the week before classes start, the actual date differs from uni to uni.
There are two 'big' O-Weeks that happen during February/March and July/August, to match up with when most on-campus classes start. But if you start your online course outside of those times, you will still get access to orientation resources that will take you through everything you need to know about your university.
What can you do during O-Week as an online student?
View your self-paced orientation program
To help you understand how online study works, your university will send you the link to a special self-paced orientation program for online students. This program will be full of guides on how to use key systems, how to prepare for your first week of classes and how to study.
This is also where you'll access your course induction. You'll be taken through your course's structure and what teachers expect, before being introduced to key staff and other students.
Your self-paced orientation program is your roadmap to uni life and not to be missed. Make sure you check it out during your first few weeks as a student.
Book into a self-study workshop
If it's been a while since you were a student or you just want to brush up on your study skills, then a self-study workshop is a must!
During O-Week, you can register for interactive online workshops that help you build smart study habits. You'll have the chance to chat to current students and staff about topics like how to create a study plan, how to study for exams and how to write in an academic style. There are also separate workshops for postgraduate students who want to know what's expected of them academically.
If you miss these sessions during O-Week, don't worry: the workshops are usually recorded or available in other formats through your student portal.
Sign up for a library orientation session
The uni library is one of the most important resources you'll have at your fingertips as an online student. You'll have access to thousands of research materials, including ebooks, scholarly databases, journals and newspapers. During O-Week, you can join online library orientation sessions that show you how to make the most of the library's services.
Most libraries will also let you book workshops or one-on-ones with librarians throughout the year. Check your university's library homepage to see if that service is available.
Join an online social event
You're not excluded from the social side of uni just because you're studying from home! Your uni knows that online study can be isolating, and will give you the chance to meet some new faces remotely.
During its most recent O-Week, for example, Deakin hosted a virtual showcase to help online students get to know the different social clubs (some of which meet remotely). UNSW often hosts speed friending sessions over Zoom.
The best way to find out about clubs and events is to follow your uni on Facebook or join a student-only private group. Here's a list so you don't have to go searching.
Visit your closest campus
If you live near your closest campus and you want to go to O-Week in person, you can do that too! All online students are welcome at on-campus orientation events. This can be a great way to make friends with your lecturers and classmates before you start studying from home.
How does Open Universities Australia make orientation easier?
We've just launched a new First Time Study orientation experience for students who are studying with their uni through us. If you're a new student, you'll be invited to sign up for orientation information and study tips via Messenger or WhatsApp. Our student advisors are also available to answer any questions you might have about starting your course.


Online orientation programs
Ready to jump in and start your orientation? Here are some quick links to help you find information sessions, workshops and welcome activities with our partner universities:
| | |
| --- | --- |
| If your university is... | You should check out these orientation resources |
| Australian Catholic University | Connect2Uni, a program for commencing students that includes links to virtual welcome sessions and online workshops. |
| Australian National University | Orientation at ANU, where you can watch essential modules that will help you settle into uni life. |
| Bond University | Orientation at Bond, which links to compulsory and optional O-Week events, plus all the information you need to succeed at Bond. |
| Charles Sturt University | Orientation at CSU. This is where you can sign up to orientation events, and access over 80 online learning support resources. |
| Curtin University | Curtin OUA Orientation, which is full of links, downloads and video guides for students studying with Curtin through Open Universities Australia. |
| Edith Cowan University | The ECU online orientation program, where you can learn all about ECU and the study requirements for your course. |
| Flinders University | Finding Your Way at Flinders, an online program you can explore at your own pace. You can also register for the O'Guides program to get matched with a student mentor and other new students. |
| Griffith University | myOrientation, a personalised step-by-step orientation journey. You can also choose to join a Welcome Team of other students in your study area. |
| James Cook University | The Learning Centre, where you can find year-round orientation workshops, plus links to workshops and live Q&As happening during O-Week. |
| La Trobe University | La Trobe's On Demand orientation program, which is home to course inductions, uni essentials and career advice. |
| Macquarie University | Orientation at Macquarie for links to welcome activities and orientation session recordings. |
| Murdoch University | MyMurdoch, which houses a range of helpful videos plus links to online course orientation sessions. |
| RMIT University | Orientation at RMIT, where you can register for program inductions and How2RMIT sessions hosted by current students. |
| Southern Cross University | Orientation at SCU, where you must complete an online induction and watch virtual course information sessions. |
| Swinburne University of Technology | You will be sent a link to the Swinburne Online orientation program as soon as you accept your offer. |
| The University of Adelaide | Orientation at University of Adelaide for important links and O-Week checklists. |
| The University of Newcastle | Orientation at University of Newcastle, where you can watch welcome sessions, IT and library demonstrations or join Zoom workshops. |
| The University of Notre Dame Australia | Learning Online, a portal with links to everything you need to know about online study at Notre Dame. |
| University of New England | Orientation at UNE, where you can take part in live Zoom sessions during O-Week, or view recorded video guides. |
| University of South Australia | You will be sent a link to the UniSA Online orientation program as soon as you accept your offer. |
| University of Tasmania | UniStart, home to study webinars, video guides and templates to help you plan your week. Links to live activities and events are also added during O-Week. |
| University of Technology Sydney | UTS Orientation, which will take you through all the study support offered for online students. |
| UNSW | Orientation at UNSW. Find fun online O-Week activities like live Q&As and virtual workouts, explore student clubs and discover all the year-round resources you'll need to thrive while studying. |
Browse  thousands of courses from leading Australian universities.
Or complete the form on this page to chat to an advisor about study options.
Explore courses