Want to help future generations fight viruses like COVID-19? Learn about the online degrees that will help you start a career in the vaccine research field.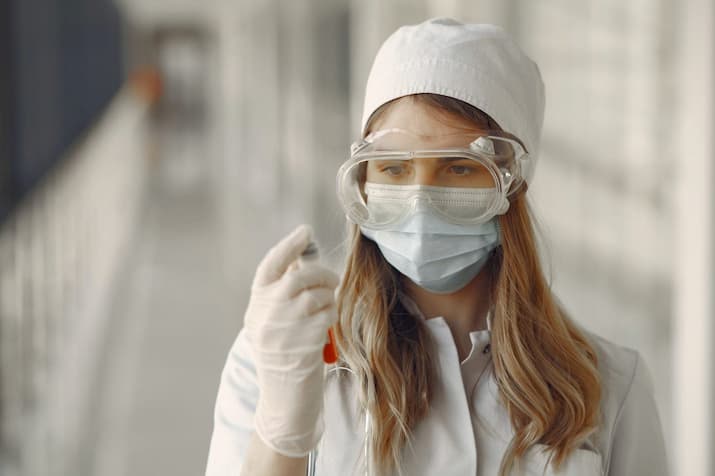 The COVID-19 vaccine promises to go down in history as one of the world's greatest medical achievements.
It's also an inspiring example of what can be accomplished when the scientific community works together. Researchers were able to develop multiple vaccines within record time because they were committed to a common goal, an approach that should change the face of science forever. It makes 2021 a very special time to study a health or science degree online.
If news of the vaccine's rollout ignited a fire in you and you'd like to help protect the world against future viruses, then you might be wondering how you can get involved in the vaccine research field. Here's everything you need to know about what to study, and the opportunities you can explore in Australia.
What does the Australian vaccine research industry look like?
Australian vaccine research happens in university laboratories, not-for-profit research centres and private biotech and pharmaceutical companies. While the US and Germany were ultimately responsible for developing the Pfizer vaccine that will likely now protect most Aussies against COVID-19, local researchers are still dedicated to learning more about the virus and how future vaccines will need to account for mutant strains and certain demographics. So if that's an area that interests you, don't worry—you'll be able to get involved in that work for many years.
Of course, coronavirus research is only the tip of the iceberg in the vaccine research field. Australian scientists have been at the cutting edge of some major vaccine developments in recent years, which proves you don't have to go overseas to chase scientific glory. As an example, the world's first cervical cancer vaccine was developed at the University of Queensland in 2006 and is considered a breakthrough medical achievement.
Right now, Australian researchers are trying to develop new vaccines against everything from cancer, HIV and malaria to the seasonal flu. They're also working on innovative new delivery methods that could make it possible to get vaccinated without any pain—things like edible vaccines, needle-free skin patches and microneedle technologies. The possibilities for a new researcher entering the field are endless.
What should you study to become a vaccine researcher?
While the scientists running laboratories, research initiatives and clinical trials will have a PhD in their chosen speciality, you can make your start as a research officer or assistant with an online Bachelor of Science or a Bachelor of Public Health, depending on the area of vaccine research you'd like to focus on. The three major areas are:
1. Vaccine research and development
This is virus research at the coalface, where assistants work at a lab bench doing things like:
growing cell cultures
cloning DNA
performing lab tests to measure how viruses behave
If you'd like to work in this area, you'll need to study biology, chemistry, biochemistry or microbiology in your undergrad science degree to qualify for a research assistant role. It's likely you'll also go on to complete postgraduate research study at an honours, masters or PhD level as you advance in your career.
2. Clinical trials
Once a vaccine has been tested in a lab environment and in animal studies, it moves into the clinical trial stage, when it's tested on people to make sure that it's safe. These trials (which run over three stages) are supervised by medical doctors and vaccine scientists with years of experience and postgraduate qualifications. Research officers with undergraduate qualifications help ensure trials run smoothly and meet government regulations.
If you'd like to work in this area with an undergrad qualification, then you might be involved in:
managing trial processes
recruiting and interviewing patients
handling biological samples
writing research reports
These positions require a degree in public health, where you'll learn about how to manage and analyse health data and take part in practical work placements.
3. Vaccine surveillance
Once a vaccine is rolled out to the public, research officers are needed to work with orgs like the National Centre for Immunisation Research and Surveillance (NCIRS) to track the vaccine's effectiveness and analyse any adverse side-effects.
With an undergrad degree, you might help experts:
conduct vaccine safety research
send out surveys to members of the public
put together immunisation guidelines to be used in hospitals or government departments
You'll need a Bachelor of Public Health or a Bachelor of Science at a minimum, though a Master of Public Health with studies in epidemiology would help boost your job prospects.
No matter the path you choose, the work that you do will influence how governments make decisions about vaccine legislation, how doctors administer future immunisations and how the public is protected against health risks. If you're looking for a career where you can make a difference, then vaccine research definitely hits the mark.
Inspired to join the vaccine research field? For free and unbiased advice about your online study options, chat with an Open Universities Australia student advisor now on: