Ernest was 87 when he completed his first degree, proving it's never too late to follow a dream.
Big change can be intimidating. It's natural to feel plagued by the thought that we can't – it's too late. But as Ernest will have you know, it's certainly not too late. At the age of 87, his curiosity and passion has earned him his very first university-level degree.
With an impressive former career as a magistrate, Ernest (or Ern, as he's more commonly known) has returned to the justice scene. He recently graduated with a Bachelor of Criminology and Criminal Justice, provided online by Griffith University, through Open Universities Australia (OUA). Driven by his dissatisfaction with court procedures, Ernest's study has updated his previous knowledge, to help him understand how to drive change within Australia's modern justice system.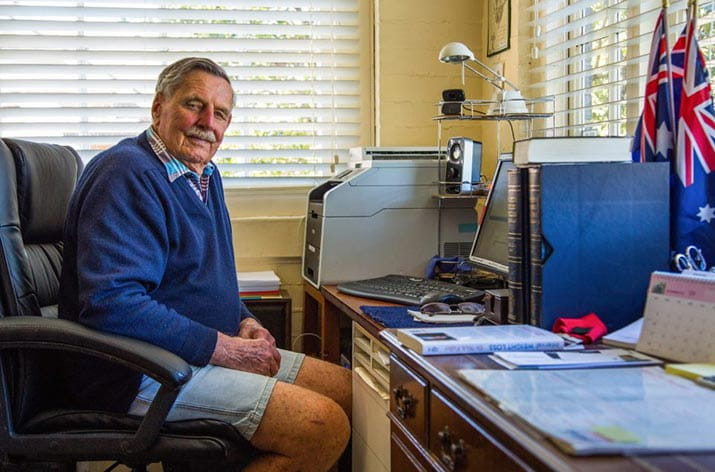 A degree is no easy feat, but what's particularly impressive is that Ernest was able to complete it fully online, despite having a self-confessed computer illiteracy at the beginning. "I was absolutely terrified I was going to press the wrong key, and the whole lot was going to go out the door!" Ernest chuckles. When faced with uncertainty, Ernest was able count on OUA's Student Advisors, who could answer any question, no matter how complex, or (as Ernest admits) downright silly.
The key to Ernest's success has been willpower – it drove him to the finish line in his Bachelor degree, and now, it has driven him to enrol in Curtin University's Master of Human Rights. Having spent a chapter of his life in Papua New Guinea, Ernest has seen inequality and abuse first hand, and wants to explore human rights in an academic setting. "Why not take advantage of academic experts, who can pass their knowledge onto someone who wishes to receive it" asks Ernest. Ernest sees every day as a new opportunity – an admirable mentality that keeps him thriving.
Don't wait to explore your passion
Through OUA you can study online, at your own pace, from wherever you are. With everything you need, provided in your university's online Learning Management System (LMS), you'll experience uni just like an on-campus student, except you'll have more flexibility to personalise your studies. While you'll be studying in your own time and space, you'll never be studying alone – OUA has a passionate community of online students, and a team of experts to help find the right study option for you, and assist manage your studies from start to finish.
Browse  thousands of courses from leading Australian universities.
Or complete the form on this page to chat to an advisor about study options.
Explore courses