At almost 60 years of age, Emma is studying online to become a psychologist—the first Aboriginal woman in her local area to do so.

Emma has spent her life supporting her local Aboriginal community.
As a child, she was saved from the welfare system by her uncle and his wife, which has always motivated her to pay it forward in her personal and professional life. After surviving a heart attack in 2002, the Ngarrindjeri and Kaurna woman realised she wanted to do even more to help those around her heal from trauma.
It became increasingly important to her to become a psychologist, particularly within her local area, where Aboriginal women had previously only ever reached the level of counsellor. So she decided to enrol in Swinburne University's Bachelor of Psychological Sciences, which she studies online through Open Universities Australia.
"I said to my kids, 'they're not ready for me upstairs yet, because I have something to do here'," she says with a grin. "I will be a psychologist out here, I just know. Because I believe I'm here for a purpose."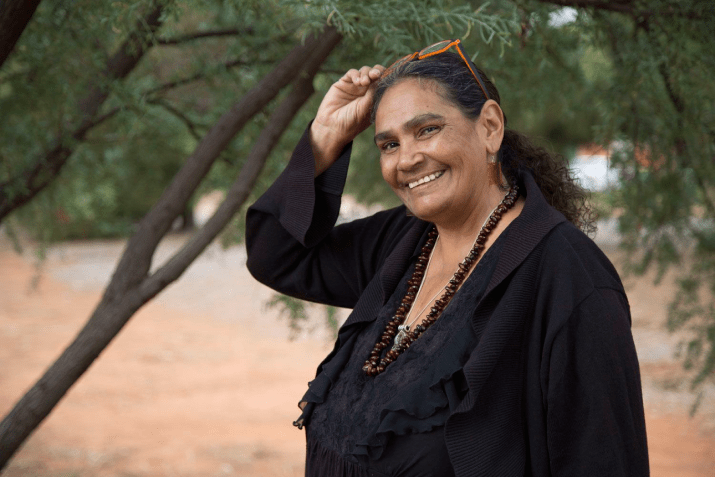 Taking the next step
Emma already holds a Diploma in Indigenous Counselling, which led her to her current role as a case worker and counsellor. Every day, she helps local Aboriginal residents work through sexual abuse issues by making home visits, organising referrals and talking with agencies, social workers and lawyers. With her degree, she hopes to support even more Aboriginal and Torres Strait Islander peoples.
When Emma goes home, she plays the role of parent to her three granddaughters, and is determined to pass her passion for education and community onto them.
"[My granddaughter] said to me this morning, 'Nana, Nana, I didn't do my homework last night!'" she recalls, laughing. "I said, never mind, we'll do double tonight!"
Pursue your own passion with online study
Through Open Universities Australia, you can:
Find the right course – Choose from hundreds of degrees and thousands of subjects, all delivered by top Australian universities.
Earn the same degree as an on-campus student – When you enrol through us, you study online with your chosen uni (and graduate with them too).
Study, regardless of your history – If you don't have a strong academic background, we can help you access subjects without entry requirements.
Gain credit towards your degree – With the right work or study experience, you can finish faster.
Feel supported from start to finish – Get help from a local expert student advisor right through to graduation.
Explore related courses
Please note: Since this article was published, Swinburne University's Bachelor of Psychological Sciences is no longer available to study online through Open Universities Australia. However, we recommend browsing these similar courses.

Bachelor of Psychological Science – University of Tasmania
Bachelor of Psychology – University of South Australia
Graduate Diploma in Psychology – RMIT University
Diploma of Counselling – University of Tasmania
Browse  thousands of courses from leading Australian universities.
Or complete the form on this page to chat to an advisor about study options.
Explore courses