As Debbie grew up in South Africa, her passion for social justice starting blossoming. Decades later, she's studying at uni, with the goal of helping communities to thrive.
As a child, Debbie can remember feeling frustrated by issues like segregation, which were permeating South Africa at the time. "In the play-ground, I had lots of times where I was arguing against Apartheid and discrimination" Debbie recalls. At 13 years of age, she moved with her parents to Australia, to avoid the enlistment of her older brother into the army. Now based in Adelaide, Debbie runs a loving and tight-knit household, with a family of her own.
After studying degrees in Psychology and Education, Debbie decided to enrol into a Murdoch University double degree through Open Universities Australia (OUA), studying a Bachelor of Arts (Community Development) and a Bachelor of Arts (Sustainable Development). "My motivation is definitely about knowledge, growth and learning, and doing that with other people in a way that's life affirming, and creates growth for everyone, not just me". Debbie is due to finish her degree this year and is very excited. "It's been a journey. I've been part-time, then gone full-time depending on circumstances" explains Debbie. "That flexibility has just been fantastic for me as a single parent of three boys."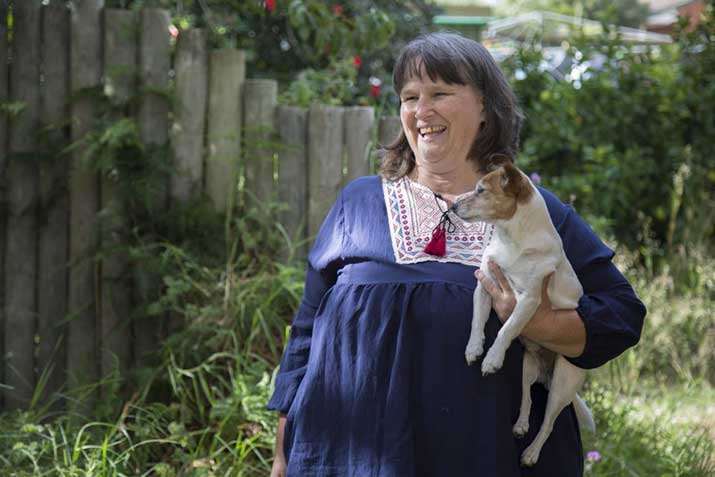 Debbie chose to home-school her children, who are quickly growing up and exploring their own passions. "Having home-schooled, it's interesting to have a different take on education, because it hasn't been so much about an institution, but about embracing opportunities that life has to offer, and exploring what you're passionate about". Debbie's eldest son, Jamie, is interested in philosophy, activism and social change. "He has a keen mind – a very sharp young man" says Debbie proudly. "Sharing of knowledge around the dinner table has definitely happened many times."
Driven by her strong sense of social justice and connection to community, Debbie is working as a volunteer on two major projects within her community. When she does get a spare moment, you'll find her in the garden, embracing her love for permaculture. "Without gardening I wouldn't be here – it's definitely fundamental to my health and wellbeing, and my ability to continue studying".
Debbie has a bright future, and her local community ought to feel safe in the hands of this passionate, driven woman. "I feel confident because of my experience with Open Universities Australia. I can go out and say I have something of value to offer."
We can put you within reach of your dream degree. Here's how:
Find the right degree for you – We can guide you in your selection from over hundreds of degrees offered by leading Australian unis.
No barriers to study – We offer single undergraduate subjects from full degrees without any entry requirements.
Gain credit towards your degree – Apply for credit for past study, or your work experience, and finish faster.
Graduate with a degree from a leading uni – Study through us, but graduate with exactly the same university degree as on-campus students.
Support from start to finish – Our Student Advisors can guide you in the right direction and help with your enrolment.
Browse  thousands of courses from leading Australian universities.
Or complete the form on this page to chat to an advisor about study options.
Explore courses