The ability to create something both imaginative and utilitarian - that's what draws architects to their craft.
What could be more stimulating than bringing to life a physical structure, straight out of your mind's eye? According to the Australian Institute of Architects, "A career in architecture offers opportunities to shape, perhaps even transform the environment in which we live".
An architect's process
It's more than creativity that architects need in their skill set – they must gather skills in design, environmental awareness, technology and science to influence the way people live and interact with the built environment. They begin with the logistics like budget, and the client's expectations, in order to create a brief. From there, it's through to the design phase to unleash creativity, as well as analyse the conditions of the site. The design must be further developed to finalise technical detail and gain approvals, until finally, construction begins and the vision is realised. It's a long process that can take years, but the satisfaction gained can be immense.
Joe's brilliant career
We chatted about the architecture industry with Joe Toscano of DP Toscano Architects, who focuses on the residential and small commercial market. "The building industry is quite a technical industry – we need to know about design and running the business, but we also need a fairly strong understanding of building construction."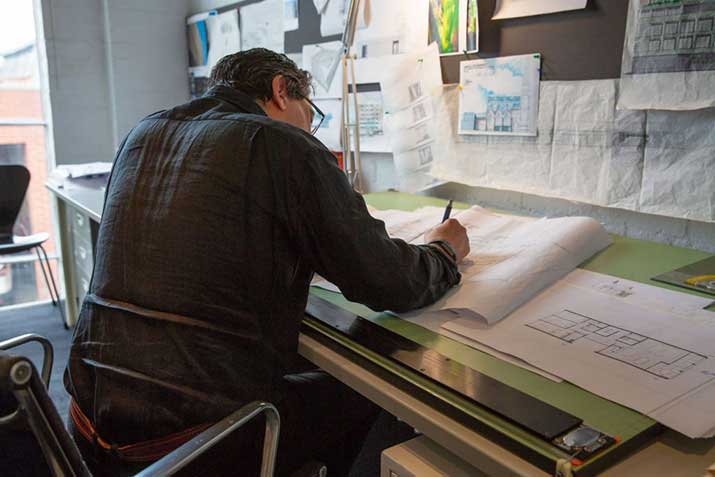 For those looking to get into architecture, Joe recommends getting on a building site to witness the end goal coming to fruition. "It gives people the opportunity to understand [what it takes] to transition from drawings to the actual built form."
The demand for architects in Australia
Professional architects are expected to be in high demand in Australia leading up to 2026, according to figures from the Australian Government's Labour Market Insights. Architects currently have a lower than average rate of unemployment, and the government's figures also show that architecture is a large occupation, with 17,000 practitioners actively employed in 2022.
Architecture graduates have a wide array of career opportunities, including work in private practice or government. Some will also specialise in heritage, sustainable design or commercial projects. There are many possibilities to pursue a passion outside of mainstream architecture practice – such as project management, urban planning, construction law, interior design, disaster relief.
Study architecture online
While in theory, anyone can design a building, there's a lot of study involved with gaining the title 'architect', explains Steven Feast, who is the Online Coordinator for Architecture and Interior Architecture at Curtin University. A career in architecture starts with a three-year undergraduate degree, such as the Bachelor of Applied Science (Architectural Science).
This course covers the design of buildings, the technical aspects of building construction, and how architecture relates to the way people live. Feast describes it as a broad-focus degree where students work through increasingly complex projects each year. It leads to employability in architectural building design firms and development companies in areas such as urban design, environmental research, building conservation, heritage matters or community development.
For those looking to study at a postgraduate level, Curtin University also providers the Master of Architecture. It features two years of advanced studies in design project work, architectural history, theory and research, management, law and professional practice. Given the course's online nature, students can be working in the industry while completing advanced design projects, analysing urban contexts, and considering urban design and place-making – putting their new skills to use immediately.
We're excited to provide a number of online courses in architecture, planning and construction, offering a level of study for anyone.
Browse  thousands of courses from leading Australian universities.
Or complete the form on this page to chat to an advisor about study options.
Explore courses