Over 11 years, 135 games, and a handful of injuries. AFL player Matthew Leuenberger understands dedication—not just as a footballer, but as a uni student too.
In 2006, a young Matthew Leuenberger showed solid talent, and was fourth pick in the 2006 National Draft. He spent his first nine years with the Brisbane Lions, and is now in his third year as a ruckman with the Essendon Football Club. He's enjoyed some high times, and endured some very tough times, which tested him both physically and mentally. Knowing that a footballer's career span is only so long, Matt was always looking ahead, planning for a life after football.
After years of study, Matt is now a university graduate. He completed Swinburne University's Bachelor of Business, online through Open Universities Australia. With a fast-paced career and a busy home life as a father, Matt saw OUA as the perfect solution to secure his future. "If you're playing footy, and that's all you're doing, you're putting all your eggs in one basket." says Matt "So I found uni was awesome for me in that regard. I'm glad I started back in 2008 and managed to stick it out and see it through."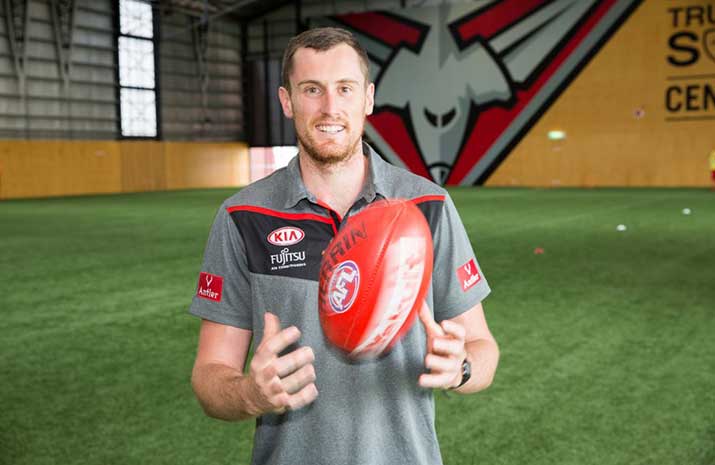 The AFL schedule can chop and change from day-to-day, so flexibility was key for Matt as he was studying. "With online study, it's on me to look at the lectures and do the tutes, get involved with the discussion boards, things like that." admits Matt. "That worked for me, I found that I was able to do it in my own time". He's even encouraging his team mates to get on-board with online study too, setting a great example of what can be accomplished, even when you're an elite athlete with a jam-packed schedule.
While Matt still has many exciting games in front of him, he's looking forward to kicking goals in the business world, and ensuring a bright future for his young family.
Browse  thousands of courses from leading Australian universities.
Or complete the form on this page to chat to an advisor about study options.
Explore courses