Anna's migraines made it impossible to keep up with a uni timetable. It was online study that allowed her to keep her career dreams alive.
Getting a university education was, you could say, a tradition in Anna's family – it was always Anna's plan for after high school. But at age 14, she was diagnosed with persistent daily headaches, which made matters difficult when it came to study. When Anna moved onto uni, her migraines persisted, and they hindered her on-campus experience – making it impossible to keep up with a timetable. Online study was definitely the way to go.
Not only did Anna switch from on-campus to online, she switched study areas—going from architecture and environments, to a Bachelor of Food and Nutrition with LaTrobe University, via OUA. Tied into this change of heart, was her decision to go vegan, after learning from books, documentaries and personal research. "It became apparent to me that I didn't want to be contributing to the animal agriculture industry". Going vegan hasn't been a magical cure for Anna's migraines, but she's felt a lot healthier since making the switch.
As a student of humanities-based subjects in high school, Anna never expected to get so wrapped up in science, studying subjects like human biosciences, physiology and diet disease relationships. "I never thought I'd be studying… but I love it". Her Bachelor will qualify her to become a nutritionist, but Anna plans to take it further into study of Dietetics, which could see her working in hospitals and more formal health institutions.
Anna is always thinking about food – whether it's the study of food, or catering to her diet by inventing vegan recipes. She's had to become a lot more creative in the kitchen, which has led her to start an Instagram account and clean living blog, to document her foodie adventures. "I'd really like to inspire people to be a bit more conscious of their footprint on the planet."
Food and nutrition means a lot to Anna—she's a bubbly, thoughtful and passionate young professional, whose future clients will surely be in good hands.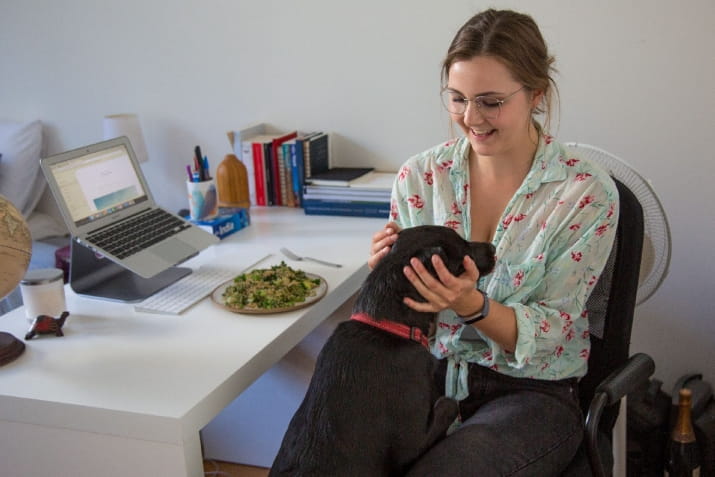 Browse  thousands of courses from leading Australian universities.
Or complete the form on this page to chat to an advisor about study options.
Explore courses