According to student advisor Rob, figuring out what to study can be ironed out with four simple questions. Find out what they are, and what Rob can do to help you move in the right direction in this sit-down chat.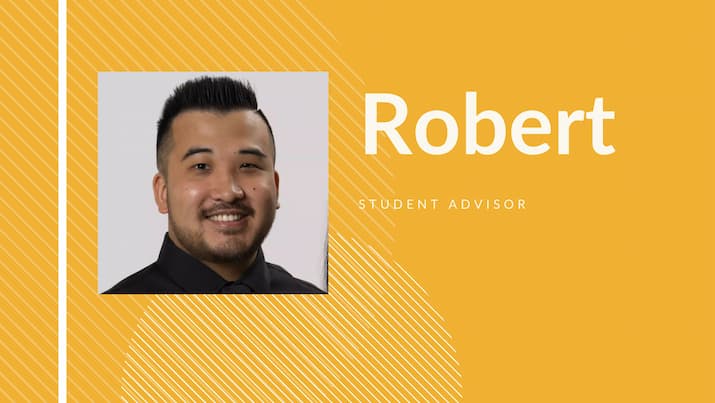 What do you love most about helping the people who contact you?

Definitely guiding them in the right direction. Most students don't even know that they're eligible for postgraduate degrees or even undergraduate degrees. The misconception is that they think they need to complete Year 12 to get into university – you don't even need to complete Year 12 to get in!

What's some advice you'd give to someone thinking about taking the leap into study?
If you're not too sure there's always the option to test the waters with Open Access (which means no entry requirements, so it's easy to enrol instantly). With the courses we offer, you can also take study for a test drive with one or two subjects before committing to a degree.
What is the most exciting course you have recommended to a student and why?
I've seen a large increase in education studies – that could be early childhood, primary or even secondary education. Especially for people who have left the workforce to have children and enjoy being around children. I've seen a real interest in that.
At Open Universities Australia, we're here to guide you there. How do you guide students in your day-to-day role?

Finding out what students enjoy and their personal interests. I always tell students, "You're probably going to find a rewarding career there, with your personal interests!" I always go back to the questions, "What did you enjoy when you were in school? What was your most favourite subject?"

Do you have a success story of a student you have guided?
I helped someone who recently immigrated to Australia – she wanted to study her first degree. She's now studying a Bachelor of Business and is in her third year. I recently had a chat with her and she's only got a few more subjects left until she completes her degree!

What's the biggest misconception about study that you regularly debunk for students?
Many students think that they need to finish Year 12 to start university – that's actually a big misconception. We have an open door policy which means students can actually study single subjects to qualify for degrees.

What is your superpower in student advisory? How does it help you guide students?
Asking the right questions! I always go back to "What are your personal interests? What do you do in your spare time? What is it that you want from study? What is your study goal?" Essentially the study goal, and the motivation behind wanting to study, is the most focal part of finding the right direction for the student. We also compare courses, whether that's on web chat or inbound calls. There's many ways that we explore and help guide students.
How has Open Universities Australia helped you reach your own goals?
I've been provided with a lot of opportunities to help lead teams using agile ways of working as well – further developing my leadership skills and capabilities and confidence as well at the same time.
Have you ever seen a student's confidence in themselves change from when they first call, to when they enrol?
Many times! Particularly those students who don't know what to study in the first place, or they're just a bit lost and they need some guidance. As student advisors it is our job to really navigate them to the right direction. From the start during enrolling, through the middle of their studies we help students start to feel a bit more confident.
Are you considering taking the leap into study? Why not call one of our friendly student advisors? You may just get Rob on the other end of the line. Every call or Live Chat is friendly and no-pressure. They will help you explore your options so that you can feel confident about your future.