Postgraduate courses in health
Online health courses to strengthen your career
Why study postgraduate health courses online?
If you've ever considered giving your health career a booster, there's no better time. Health is Australia's largest and fastest growing industry. It employs over 1.5 million people. People just like you.
Careers in health are expected to stay strong. For example, more than 40,000 new nursing jobs are predicted in the next five years. And the number of psychologists employed in Australia is set to increase 13.3% by 2026 (source: Labour Market Insights).
So whether you're looking to expand your knowledge with a health course in mental health, disability, counselling, case management, public health or something else entirely – we can help you take that next step in healthcare. Better yet – with online study, you can fit it in around your existing work commitments.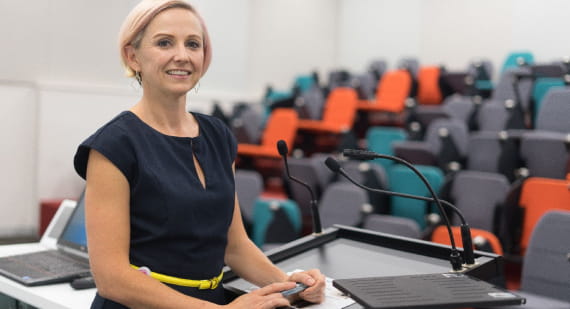 Discover related subjects
Postgraduate qualification levels explained
Graduate Certificate
4 subjects | AQF Level 8
A generalist qualification ideal for postgraduates wanting to develop skills in a specific area.
Graduate Diploma
8 subjects | AQF Level 8
A concentrated approach to important skills for postgraduate students seeking a higher level of understanding.
Masters Degree
11-16 subjects | AQF Level 9
A full program of learning to develop postgraduates' advanced knowledge for professional practice.
Postgraduate stories to inspire you
Catching out fraud in the health industry
Kerrie works to protect the integrity of the health sector.
Dental care for Victoria's most vulnerable
Melissa is committed to making her mark in the public health industry.
Health student, supporting a safer industry
Faye's focus shifted from law to health.
Get going with OUA
Compare and apply
We'll help you find the right course for you. Our student advisors are ready to answer your questions.
Work out your finances
During your enrolment, we'll offer you the option to pay upfront in full, or defer your payment using a student loan. Remember to look into income tax deductions for course fees and study-related expenses.
Get credit for your success
We won't let your hard work go unrecognised. Choose to take a single subject, or combine your work as part of a degree.
Why study online through Open Universities Australia?
Find the right course for you
Explore and choose from thousands of degrees, subjects and short courses from leading Australian unis.
Target specific skills and knowledge
Upskill one topic at a time with postgraduate single subjects.
Get the credit you deserve
Apply for credit for past study, or your work experience, and finish faster.
Graduate with a degree from a leading uni
Enrol through us, and graduate with exactly the same qualification as on-campus students.
Fit learning around your busy life
Load up on subjects, slow down with one or two, or take time off when you need it.
We're here to guide you there
Our student advisors can assist you with enrolment, help you plan your studies, and answer questions about how studying through Open Universities Australia can get you from where you are today, to where you want to be tomorrow.