Have you always wanted to make a difference? Become somebody's favourite teacher.
Study primary education online so you can influence children during their most crucial stage, between the ages of five and 12.
Explore different teaching theories and technologies from home, at your own pace. Then go on placements and gain essential hands-on experience in the classroom. Your primary teaching qualification will give you the knowledge you need to inspire and lead young pupils every day.
Go on to become a registered primary school teacher—or launch your career as a special aide, education leader, school principal or administrative and policy specialist. The choice is yours.
We're here to help you explore your study options with different universities.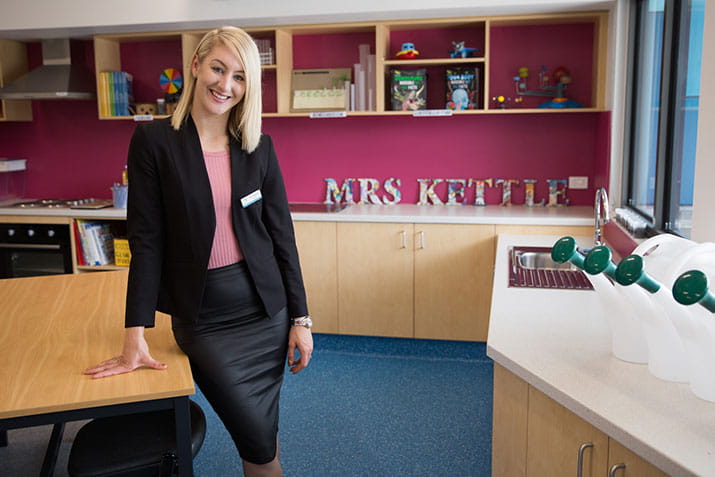 Explore primary teaching degrees
Explore primary teaching single subjects and short courses
Explore over 118 ways to study primary teaching with leading Australian universities
Meet a student
Working as an interior designer, Ally had always wanted to teach. In a change of heart, she called Open Universities Australia and asked a student advisor how she could become a primary school teacher.
Primary teaching course FAQs
Why should you study primary school teaching?
Every town needs a primary school teacher (or ten), as demand for kindergarten to Year 6 educators continues to grow. In fact, Job Outlook suggests that Australia will need almost 180,000 new teachers by 2025, supporting the idea that teaching is among the country's most stable industries.
Motivated by more than data? Teaching is challenging, rewarding and interesting, as every year reveals a fresh new way to engage with kids who need guidance on history, geography, English and so much more. While making a difference is often a goal for many of us, the impact you make as a teacher can last years, and will live on in the students who pass through your doors.
Study a primary teaching degree online and begin your education journey.
What you'll learn in a primary school teaching degree
A primary school teaching course typically covers areas like:
literacy and numeracy education
subject teaching, from science and geography to performing arts
leadership and classroom management
lesson planning
how to cater for students from diverse backgrounds
how to communicate with parents and carers
As an online student, you will still have the chance to take part in student teacher placements so you can put your skills into practice in the classroom.
A Bachelor Degree in primary education is required to become a primary school teacher in Australia. If you already have a Bachelor Degree in another area, you can complete an approved postgraduate degree such as a Master of Teaching (Primary). A Masters Degree explores the primary curriculum and qualifies you to become a teacher, but also focuses on more specific pedagogies and theory. This can prepare you to take on a leadership role within a school, or within education administration and policy.
Student stories and study advice
Industry snapshot for primary school teachers

Open Universities Australia is a not-for-profit organisation that helps every Australian access thousands of university courses.
Over 479,000 students have enrolled in university through us since 1993.
Why study through us? Students say it best.
We're here to support you during every step of your study journey, 7 days a week.
How we can help you
Studying through Open Universities Australia means we take care of the guesswork and administration involved in university study, so you can focus on learning.
You don't need an academic history to start with our open-door policy
You don't need an ATAR or previous study to go to uni. We make it possible for anyone to enrol in single subjects, which can be used to upskill or credited to a degree later. These subjects are fully covered by government loans.
You're in control of when you study thanks to multiple start dates throughout the year
Study how and when it suits you. You're free to take a single subject, short course or full degree, depending on what you can manage. You can also pause your studies when you need a break, and start again at another time.
You're in good hands thanks to our 29 years of experience in online study
As a not-for-profit, it's our number one mission to help you succeed. Our advisors are ready to guide and support you 7 days a week, so you can graduate with a qualification from the university of your choice.
Our friendly student advisors are here to help
We're here to guide you every step of the way with expert advice on:
Choosing a course that suits you best
Enrolling, and planning your studies
Understanding your funding options
Call, message, or chat with an advisor today.