Animation and visual design courses
Learn a highly specialised craft, and bring to life the weird, wonderful—even impossible.
Though the use of 3D animation and visual effects, society is able to tell powerful stories, communicate with astounding clarity, and visualise what's not yet possible in the physical world. Not only is there opportunity in entertainment and advertising—dynamic visualisation is crucial to industries such as medicine, architecture, and product design.
Opportunities for graduates are boundless, so get started today by exploring our animation courses, visual effects courses, and similar courses in digital media.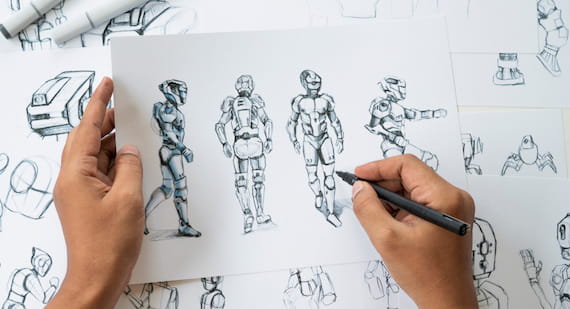 What you'll learn
Courses will typically begin with the basics, teaching you to generate a concept and craft an engaging narrative. You'll also delve into the principles of general design, character design and motion. Once the basics are in place, you'll move into key areas of the course, and learn the associated tools and technologies. These key areas include:
Animation
Visual effects (VFX)
3D modelling and rendering
Specialist areas, e.g. texture and lighting
Production planning
To ensure you exit the course with work to show, you may undertake subjects that help you plan and develop your personal portfolio.
Visualise the end-goal
If you're pining for a career in the film, television or advertising industry, there are a range of pathways for graduates of animation and visual effects:
Animator - Bring characters and objects to life by simulating movement and emotion.
Visual effects artist - Manipulate video to create effects that were not captured during filming.
3D modelling and rigging - Create 3D puppet-like assets, ready for use in animation.
Concept artist - Create a look and feel for the production.
Storyboard artist - Plan how a production plays out, shot by shot.
Specialist artistic roles - Refine the finer details, such as texture and lighting.
Compositor - Use a well-rounded skillset to finalise each scene.
Production roles - Manage the logistics of production.
Graduates may also find themselves in visualisation and simulation roles, working in areas such as medicine, or design fields like architecture, product design, industrial design, or theatrical set design.
Discover related subjects
Why study online through OUA?
Find the right course for you
We can guide you in your selection from 550+ degrees, and 2,610+ subjects, from leading Australian unis.
Start studying, regardless of history
We offer single undergraduate subjects from full degrees without any entry requirements.
Gain credit towards your degree
Apply for credit for past study, or your work experience, and finish faster.
Graduate with a degree from a leading uni
Enrol through us, and graduate with exactly the same university degree as on-campus students.
Feel supported from start to finish
Our student advisors can guide you in the right direction and help with your enrolment.
We're here to help
Our student advisors can assist you with your enrolment, help you plan your studies and answer any questions about how studying through OUA works.