Is uni on your bucket list for 2021? Explore the exciting new online courses now open for enrolments through our website—and get the lowdown on this year's university fee changes.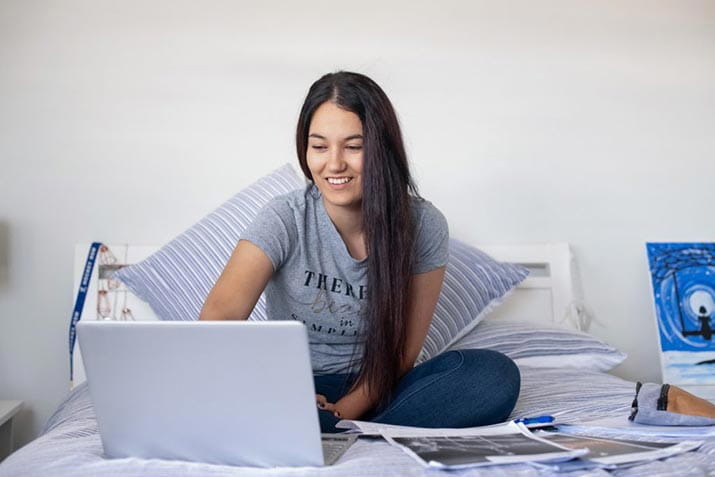 In 2020, the world hurtled into an advanced style of digital living. It helped us keep working and learning and staying connected, and after a while, we realised it wasn't that bad. In fact, a lot of us have embraced the idea of permanently working and learning online, after discovering how much it lets us fit into our busy lives.
If you're thinking about studying online in 2021, this is a perfect time to do it. Our first (and biggest) study term of the year is set to kick-off at the start of March, and there are plenty of new courses we think you might like.
Online short courses to help you upskill quickly
Keeping your skills fresh is more important than ever in today's dynamic working environment, where most of us will change jobs at least 12 times before retiring. Why not improve your employability with one of these new short courses?
Duration: 2.5 hours
Who should enrol: Anyone who wants to improve their digital literacy skills in the workplace. You'll get to know the standard platforms, plus learn how to think critically about online content and how to safeguard your identity.
Duration: 2.5 hours
Who should enrol: Managers who want to encourage their people to work more creatively together.
Duration: 14 hours
Who should enrol: Anyone keen to improve their leadership skills and build stronger relationships with colleagues.
Online uni degrees to help you launch your career
We're excited to announce that we've just added a range of new online degrees from leading Australian universities, covering disciplines from business and health to the humanities and sciences.
Like all of the courses available through our website, they can be completed full-time or at your own pace with flexible study. Here are a few highlights.
Duration: 3 years full-time; up to 10 years part-time
Who should enrol: Students who want to understand the fundamentals of law and pursue a career in justice. The lecturers are experts in rural and regional law, so this course is especially relevant if you'd like to work in a regional community.
Duration: 1 year full-time; up to 3 years part-time
Who should enrol: Those who have finished a related degree, in an area like health or social work, and want to transition into counselling.
Duration: 2 years full-time; up to 5 years part-time
Who should enrol: Students who have finished their undergrad or have experience in the workforce and want to lead in business research, marketing, finance or entrepreneurship.
What you need to know about the changes to university fees
As you may have heard, the Australian Government has changed the fee structure for certain subjects as part of its Job-ready Graduates Package. It's thought that this will boost enrolments in disciplines where demand for jobs is expected to be highest.
As a result, you will see fee reductions across subjects in 12 different disciplines, such as health, architecture, IT and engineering. The most significant fee drops apply to subjects in:
Agriculture

(fees will drop by up to 59%)
Maths (fees will drop by up to 59%)
Teaching

(fees will drop by up to 42%)
Nursing

(fees will drop by up to 42%)
On the flip side, if you're interested in the humanities, business, law or economics, your subject fees will increase. However, you still have access to the same HECS-HELP and government support, plus student loans and Commonwealth supported places. If you'd like to find out more about these price changes, the Australian Government's Study Assist website breaks it down.
You can also contact our student advisors for free at any time if you'd like advice about your options. They're available over the phone at 13 OPEN or online via the form on this page to get you ready for an exciting year of learning ahead. Enrolments for the first study period of 2021 close on Sunday 21 February, so make sure you reach out before then.