This year, students across Australia swapped the annual array of on-campus festivities to attend virtual open days instead. If you've just attended one, what should you do next? 8 minute read.
If you've had your heart set on attending uni for years now, chances are you were counting down to this year's line-up of open days. You dreamed of the lane-ways you'd wander down, the lecture theatres you'd sit in, and the act of deciding which café would soon become your favourite haunt.
But 2020 isn't a year that plays by the books. With COVID-19 causing the world to change the status quo, open days are just one experience among many that aren't happening IRL. The good news is, many universities have opted for virtual open days – allowing students to get a sense for the university they wish to study with, and weigh-up their options from the safety of home.
If you recently attended a virtual open day, you might have switched off your laptop to wonder… what on earth do I do next? The good news is, we're here to help.
What to do after attending a virtual open day
1.
Create a comparison table

Much like scrolling Instagram, visiting site after site may have left you feeling fatigued, and more confused than before you started your virtual open day experience. This is where a comparison table can work wonders.

Create a chart where each row represents a university you're considering. Next, add columns for each important factor you're looking at. This might include which courses each uni has that are of interest to you, what their beliefs are, costs for their courses, what you like about their culture, and even the vibes you picked up from how they ran their virtual open day. Now you can see what separates each uni apart at a glance.
2.
Discuss your likes and dislikes with family and friends

While you may be locked down in isolation due to COVID-19, that doesn't mean you can't jump on a quick video call to chat about your options with family and friends. Verbalising the pros and cons you've outlined in the previous step can help you solidify the option you're leaning most towards, and even consider factors you hadn't thought of yet.

While your parents' likes and dislikes may be worlds away from your own, at the very least they'll be able to add a different perspective – which is exactly what you need when you're making a life-changing decision!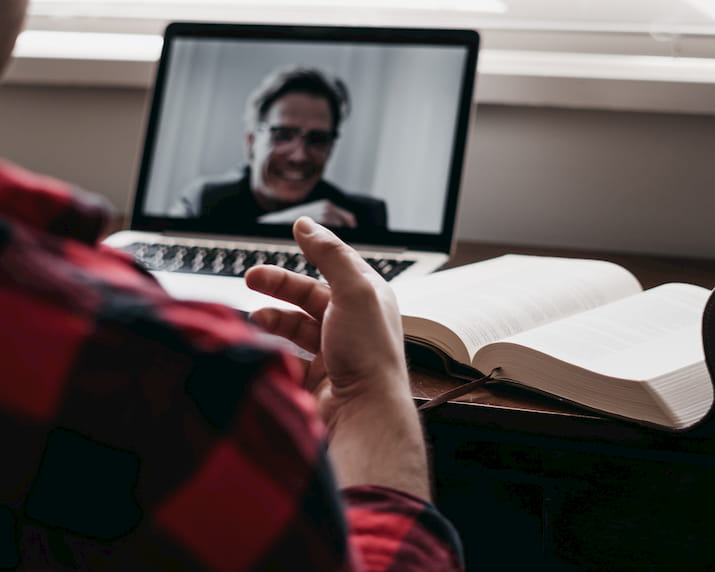 3.
Consider options other than on-campus study

COVID-19 hasn't just impacted the way open days are run – it's changing the way students are learning, too. While online learning has been around for quite some time now, there has never been a point in history where it has been more advantageous than today. So, have you considered it?

Studying online has a range of benefits that go far beyond the pandemic. Through Open Universities Australia (OUA), you can choose from thousands of courses available to study online with leading Australian universities. But it doesn't end there. You'll also:
Be able to study when you want, where you want
Online study through OUA allows you to study whenever and wherever. If you're an early bird, you can listen to a lecture at 5AM. If you're a night owl, you can join a discussion forum at 12AM. Learn between life commitments and get uni done on your terms.
Have the option to transfer on-campus
Is your heart set on walking the halls of a campus? Enrolling online through OUA doesn't mean you'll never have that experience. The beauty of starting your course online through OUA is that you can transfer to on-campus study at any time – in particular, once the pandemic is over. It's a win-win.
Not have to worry about entry requirements
Did you know that through OUA you can start university study without worrying about your ATAR score? It's true. Start with an open enrolment subject, and you can get your foot in the door without having to prove any study scores. Once you've completed a few open enrolment subjects, you can use these instead to get into a degree.
Be able to fast track, or slow down, your degree
When you study online through OUA, you're in the driver's seat. You can choose how many subjects you'd like to study online at once – and even choose subjects from multiple universities. If you're keen to speed towards the finish line, you can load up on subjects. If you're having a hard time, drop down to just one. There's no judgement. We just want to see you achieve your goals.
Join a community of thousands
When you study online through OUA, you're never alone. You'll be joining a community of thousands of other students. Not only will you be connected to like-minded students through the online forums run by the university you choose to study with, but also the OUA community on places such as Facebook.
Graduate with the same degree as on campus
If you choose to complete your entire degree online, you'll graduate with the exact same qualification as if you had studied on campus. That's right, your piece of paper will be the same as those who studied in lecture halls – meaning you can proudly step out into the world as a graduate, ready to take on your career!
4.
Remember, OUA is always open

Visit open.edu.au, and you're given the chance to compare, choose and enrol in courses available to study online with leading Australian universities – year-round. You're not tied down to making a decision after your open day experience, because our doors are always open.

Our team of expert student advisors are on-call around the clock to answer questions about courses, what it's like to study online, and what the right option is for you. So, if you're feeling pressured to make a decision after visiting a few virtual open days, don't be! We're here, and always will be. With multiple start dates year-round – when you choose to start studying through OUA is truly up to you.
Browse  thousands of courses from leading Australian universities.
Or complete the form on this page to chat to an advisor about study options.
Explore courses