Nearing 60 years of age, Emma is studying online to become a psychologist – the first Aboriginal woman in her local area to do so.
As a child, Emma was saved from the welfare system by her uncle and his wife – who she calls "Dad" and "Mum". Emma speaks warmly of her Dad, who first taught her the importance of education.
Not only was Emma motivated by her Dad's views on education, but she gained a greater sense of purpose after surviving a heart attack in 2002.
Soon after, it became increasingly important to her to become a psychologist, particularly within her local area, where aboriginal women like Emma had previously only ever reached the level of counsellor.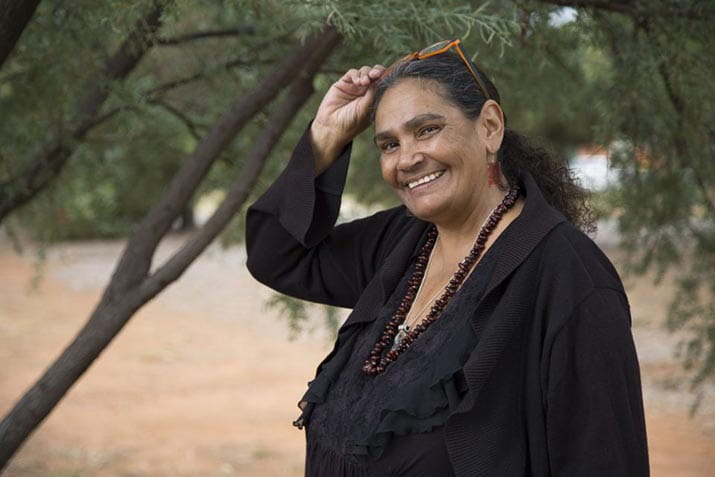 Today, Emma is busy working towards a Bachelor of Psychological Sciences from Swinburne, through OUA. She already holds a diploma in indigenous counselling, which has led her to her current role – a case worker and counsellor, helping people of the aboriginal community to work through sexual abuse issues. Her day consists of home visits, organising referrals, and talking with agencies, social workers and lawyers. Emma is also involved with a number of organisations and support groups that allow her to travel around the country, connecting with aboriginal people.
"I will be a psychologist out here. It'll happen, I just know, because I believe I'm here for a purpose."
When Emma goes home, she plays the role of parent to her three granddaughters, and is determined to pass her passion for education onto them.
"[My granddaughter] said to me this morning, 'Nanna, Nanna, I didn't do my homework last night!' I said, never mind, we'll do double tonight!" she laughs.
While Emma stays positive by keeping connected to her grandchildren, the stories of suffering that she is exposed to every day can take an emotional toll. To keep herself grounded, Emma takes time every evening to practice rituals, which help her unburden herself. She's a strong believer in the power of traditional healing, and often speaks to her ancestors at night, asking for guidance, and thanking them when they help her through tough times.
Despite the challenges of Emma's past, and the fast-pace of her life today, she encourages others in similar situations to keep pushing for what they want out of life.
Studying online through OUA
Through Open Universities Australia (OUA), you can study online with leading Australian universities at your own pace, from wherever you are.
With everything you need provided in your virtual classroom, it's simple to work your way through topics, and submit your work for assessment.
There's no need to feel alone throughout your study experience – you'll benefit from the expert guidance and feedback of your university's online teaching staff, a passionate community of like minded students, and the guidance of OUA's student advisors.
To express your interest in any of the courses on offer through OUA, fill out the form on this page and an expert student advisor will get in contact. Otherwise, start browsing thousands of courses from leading Australian universities right now.