In the digital space, there's always something new to learn. Whether you're looking to secure a promotion or completely switch careers in marketing, the following courses can help you get there.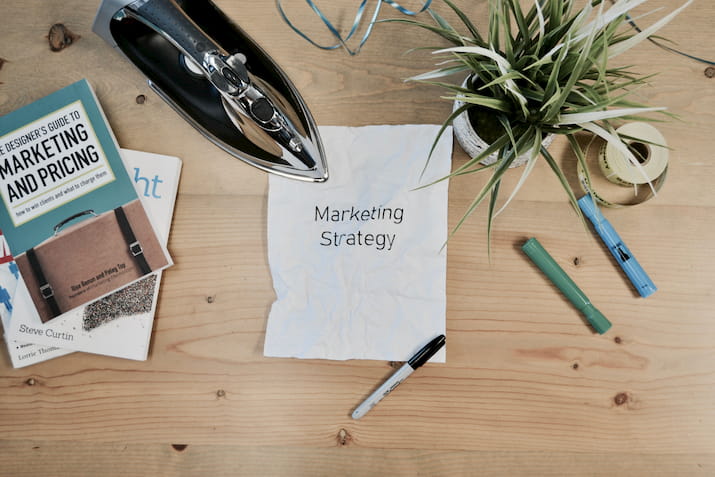 Thinking about getting your degree in marketing? Or maybe you already consider yourself a bit of a marketing aficionado and are looking to upskill. Either way, in the ever-changing digital landscape of marketing, cultivating your skillset and expanding your knowledge can open new pathways for your career.
Check out these business marketing courses by well-known Australian universities, available to study online through Open Universities Australia (OUA). That's right, you can study marketing online from the comfort of your home.
Curtin University's Master of Marketing
If you've already got some experience in the field, this masters degree in marketing will allow you to level up by developing strategic decision-making skills, applying marketing theories, mapping out digital campaign strategies, and enhancing the customer experience.
You'll learn how to:
Apply specialised theories, models and concepts relevant to the digital space.
Critically analyse the digital marketing landscape and generate creative, evidence-informed solutions.
Synthesise complex information and apply established marketing theories that demonstrate your technical skills.
Deliver and refine content across a broad spectrum of digital contexts.
Recognise cultural trends in society and apply these ethical and global perspectives to create culturally aware marketing strategies.
Some roles this course may prepare you for:
Research Analyst
Marketing Director
Brand Manager
Campaign Manager
Customer Success Manager
Head of Digital
Graduates may also qualify for entry into doctoral degrees.
UTAS' Master of Marketing Management
Further your know-how in marketing by tackling marketing theories, principles and philosophy with a master's degree designed to help you become a leader in the digital space. Learn how to unpack problems and execute solutions on a mass scale. Hone your capabilities to analyse, articulate and critically think through creative solutions.
You'll learn how to:
Plan, implement and execute multiple marketing projects and use leadership skills to deliver projects with tight deadlines, while also focussing on time management and scheduling.
Apply ethical and sustainable practice by working independently and collaboratively with diverse stakeholders.
Take ownership of building and managing effective relationships, campaigns and solutions.
Think critically to solve complex digital marketing problems and consumer behaviours to establish a win-win outcome with diverse audiences and cultures.
Some roles this course may prepare you for:
Marketing Manager
Brand Manager
Product Manager
Sales Manager
Digital Marketing Specialist
Research Analyst
La Trobe University's Bachelor of Applied Business
Communication is key to succeed in a career in marketing. This practical degree will help you build a toolbox of business skills that can lend themselves to a range of industries. Discover the inner-workings of organisations and graduate with a hands-on degree that will propel you into a role giving you the opportunity to flex your prowess in marketing.
You'll learn how to:
Identify and analyse information relevant to social and business changes.
Evaluate alternative solutions that account for competing social, economic, ethical and commercial perspectives.
Devise innovative solutions to challenges through identifying and evaluating ongoing problems.
Communicate effectively and professionally with stakeholders.
Respectfully engage with a multicultural team to achieve successful outcomes.
Some roles this course may prepare you for:
Marketing Coordinator
Administration Manager
Entrepreneur
New Business Start-up
Office Manager
Product Manager
Program Consultant
Swinburne University's single subject: Marketing and Innovation
Perfect for those considering a Bachelor of Business (Marketing), this single subject course can prepare you for further study, setting the framework for marketing and communication. Alternatively, it's a great way to get a taste of marketing before committing to a future in the field. Get hands-on experience with innovative platforms, product development and enabling customer experience—with no entry requirements!
You'll learn how to:
Describe the scope of marketing and its role in customer value creation.
Apply knowledge of product and service development in addition to digital technology to create operation, tactical and strategic decisions.
Develop a marketing plan related to the launch of a new product or service using a range of digital tools.
Apply social and ethical principles in the process.
Communicate and work dynamically with individuals and teams across a range of contexts.
Marketing courses FAQs
Is a business marketing degree worth it?
If you want to work in marketing, getting a degree is sometimes crucial to land a role. According to Job Outlook, you usually need a bachelor degree in marketing or a related field to secure a job as a marketing professional.
Are marketing degrees in demand?
Marketing degrees are incredibly versatile for launching your career, which means this degree can prepare you for a range of career paths. If you are interested in marketing, a degree can make it easier to land an entry-level job and can also help to accelerate your experience in a particular speciality.
To express your interest in any of the courses on offer through OUA, fill out the form on this page and an expert student advisor will get in contact. Otherwise, start browsing thousands of courses from leading Australian universities right now.