Data science courses
Discover how to collect big data that feeds into valuable analysis
Study data science and learn how to evaluate large volumes of data using techniques rooted in computer science, programming and mathematics.
With the right qualification, you can become a big data expert who wrangles the data that guides organisations to solve business challenges.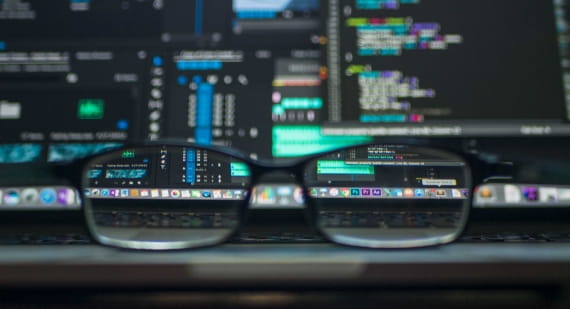 Why should you study a data science degree?
If you have an affinity for maths, statistics or computer science, then a data science degree could be just the course for you. The world of data is expanding at a phenomenal rate, and a background in data science will provide you with the skills and knowledge you need to navigate it.
Use principles from mathematics, stats, programming and coding to help solve issues businesses face on a daily basis and guide their decision making.
If this sparks your interest, you can get started by studying data science online with one of Australia's leading universities through Open Universities Australia. Whether you're keen to start with an undergraduate qualification or move into postgraduate studies, we'll guide you there. Explore our selection of online courses, compare your options using our comparison tool or draw on the knowledge of our friendly student advisors to find the right course for you.
Discover online data science courses
Discover online data science subjects
What you'll learn in a data science course
Data science is a multidisciplinary field that combines maths, science, data analytics, statistics and sometimes even artificial intelligence to collect data from a number of different sources.
A data science course will provide you with an understanding of the research principles and methods underpinning the practice of data science. You'll learn how to work with complex bodies of unstructured data, deduce findings and make recommendations that can help solve business problems.
Data science course FAQs
There are a number of different course options available through Open Universities Australia when it comes to data science. Whether you choose postgraduate studies in data science, a diploma in data science or something else entirely, there's sure to be a course that's right for you. Better yet, they are all delivered by credible, leading Australian universities.
To explore data science courses, use our handy comparison tool. You'll see a side-by-side comparison of price, content and other contributing factors that will help you make your decision when choosing between top Australian universities.
Once you've decided on the course, you can easily enrol online with the university itself through the Open Universities Australia website. It's as simple as that!
If you've still got questions about any of the courses on offer or you need to customise your study, ask one of our friendly student advisors.
Picking the right course from thousands of options can be tricky at the best of times, which is why we're here to guide you there.
Using the Open Universities Australia website, you'll be able to browse a selection of data science courses available online. Each of the course pages detail exactly what you'll learn, any entry requirements and the cost so that you know exactly what you're in for.
Our student advisors are also available to chat through your options.
To get started on your journey to becoming a qualified data scientist, simply enrol in your preferred course through our website or submit an expression of interest form and one of our student advisors will be in touch.
Student stories and study advice
Get help every step of the way
Our student advisors can assist you with enrolment, help you plan your studies, and answer questions about how studying through Open Universities Australia can get you from where you are today, to where you want to be tomorrow.