Partner with us
Open Universities Australia's marketplace is a risk-free way for universities to complement their on-campus student cohort.
Our marketplace is where students can explore, choose and enrol in higher education (level 5 AQF and above) degrees, diplomas and single units—as well as a range of short courses.
We want to collaborate with universities to help them attract more students, that's why we offer a non-exclusive agreement. University partners have control over pricing and distribution, and are free to bring as many new programs, majors, minors and units to the OUA marketplace as they wish. The ability for universities to set their own prices and offering gives universities control of their competitive positioning.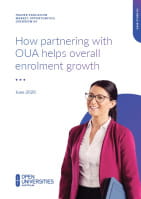 How partnering with OUA helps overall enrolment growth
Case study: University of New England increased their profile nationally to attract new students located outside of New South Wales.
September 2021, 10 pages.
Download case study
Flexible service options
We have a range of flexible service options allowing universities to choose the level of support they need.
Full service
OUA manages the end-to-end student enrolment journey.
From sales and marketing, student application and enrolment management services such as financial support and student loan administration, to student administration services and quality assurance support.
Lead referral
An additional acquisition channel attracting qualified leads.
OUA transfers new leads across to universities for completion of the sale and enrolment. Universities only pay for the leads they convert into enrolments.
Single units
Our unique status in the Higher Education Support Act 2003 allows students to use FEE-HELP loans for full-fee single unit study, opening a revenue stream for students who are not interested in a full degree. As well as benefiting full-fee paying students looking to study single units, our status in HESA also opens a revenue stream above universities capped Commonwealth Government Scheme funding.
Short courses
With the Government's announcement to financial support for up to 20,000 places from 1 May 2020, Open Universities Australia has made the decision to support all university partners by withholding any associated charges for applicable short courses hosted through OUA between 1 May 2020 and 1 December 2020.
We believe that this is the right thing to do at this time when many Australians who have lost their job can retrain in priority areas. We also think that it is the right thing to do for our university partners who are grappling with unprecedented pressures.
We found that we've grown our enrolment significantly online working with OUA…we've been able to expand our reach to students all over Australia."

—Prof. Jill Downie, Deputy Vice-Chancellor, Academic, Curtin University.
Why partner with OUA?
Universities want more students and through flexible service offerings, national marketing campaigns, and opportunities to help bring new programs online quickly, in a rapidly changing environment, OUA is able to support partners who wish to offer more and greater courses, quickly.
Current university partners
OUA students can study complete degree programs and single units from many Australian universities. This unrivalled collaboration of universities enables OUA to offer more than 2,050 units in over 430 programs across seven disciplines—arts, business, education, health, IT, law and science & engineering—at both undergraduate and postgraduate level.